How we got here
MovingAhead began in 2015 as a partnership between the City of Eugene, Lane Transit District (LTD), regional agencies, and the Eugene-Springfield community. Its purpose is to determine how to improve transportation on some of our most important streets.
MovingAhead is about more than just transit. It's about getting us where we need to go, whether we ride the bus, bike, drive, use mobility devices, or walk.
Based on previous community feedback, the MovingAhead team focused on five key corridors and identified costs and benefits of transportation investments for each:
Highway 99
River Road
30th Avenue/LCC
Coburg Road
Martin Luther King, Jr. Boulevard
What we've heard so far
Over summer and fall of 2018, the City and LTD heard from the community. Key themes emerged:
Strong support for transit, with a preference for EmX and Enhanced Corridor options (more on those later) compared to No-Build options.
Important criteria for most who responded:
- Improvements and safety for people who walk and bike
- Level of transit ridership
- Effect on travel time
- Effect on operating costs
Most strongly supported: adding EmX along River Road
Smaller difference in support among options for the 30th Avenue to LCC and MLK, Jr. Blvd corridors
The Eugene City Council and LTD Board of Directors will select a package of transit, walking, and biking investments to fund and build on the five corridors over the next 10 years. The selected investment package will become a powerful tool for carrying out local and regional land use, transportation, and community plans.
MovingAhead Goals and Objectives
Improve transit travel time and reliability, minimize transfers, increase ridership, and improve access and safety for people walking, bicycling, and using mobility devices.
Control costs while increasing transit capacity to meet demand. Leverage funding opportunities that provide a maximum return on investment. Minimize impacts to the environment.
Support and coordinate with other planned development and transportation projects and provide high-capacity transit that is consistent with the community vision. Minimize impacts to businesses and industry and improve transit so as to provide benefits to vehicles, freight, and emergency services.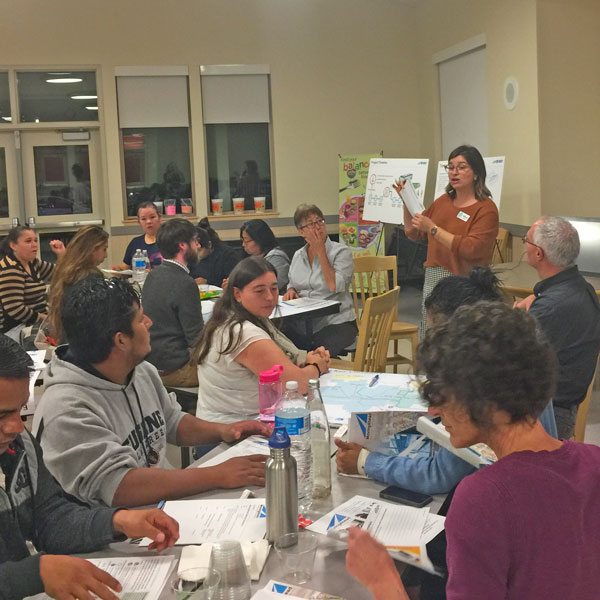 Feedback from open houses, listening sessions, an online open house, and other public comments helped form the options you'll see here.